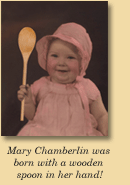 Mary Chamberlin is a professional chef, caterer and culinary educator based in Carmel, California, whose work embodies a lifetime passion for the world's finest foods.
Mary attended West Valley College, College of San Mateo and the University of California, specializing in Restaurant Management & Catering. Mary then studied at Cordon Bleu and La Varenne, and became proficient in a range of cuisines, including Cantonese, European and American.
She has owned and operated Mission Gourmet Cooking School, bringing chef's from all over the world to teach their style of cuisine. She presently teaches part time at home in her award-winning professional kitchen. The fall issue 1998 of Better Homes & Gardens (Kitchen & Bath Ideas) Magazine, featured her beautifully appointed professional kitchen along with a story on her extensive food background.
Mary's many titles (past and present) include Advisory Board Member of the Culinary Center of Monterey, member of the James Beard Foundation, Chair and Member of the Board of the American Institute of Wine & Food Monterey Bay Chapter, National Vice Chair of the American Institute of Wine & Food, founder of the Central Coast Chapter of Les Dames d'Escoffier International and Agent for Michel Escoffier and the Foundation Auguste Escoffier and the Escoffier Museum of Culinary Arts in Villeneuve-Loubet in the South of France.
Mary's association with Michel Escoffier, President of the Foundation Auguste Escoffier, has resulted in her appointment to the Advisory Board of the new "August Escoffier School of Culinary Arts", continuing her commitment to culinary excellence and education.
Her flamboyant theme dinners are legendary, and many local charities and organizations have benefited from her generous donations of these dinners as fundraisers. She also volunteers for Meals On Wheels and has served on numerous committees, raising funds for scholarships and other worthy causes.
Mary is an ardent practitioner of culinary arts with an international flair, and has logged over a million miles of travel to prove it. At last count, she has prepared 140,000 servings of soup. Her husband, Roy Chamberlin, a retired airline pilot, flew his wife around the world to collect her delectable recipes. Roy photographs and kitchen tests Mary's creations, and has provided the support to bring her soups to those who love cooking and serving splendid foods.