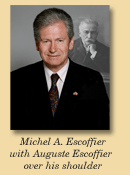 "Auguste Escoffier believed that cooking has to be treated seriously, but eating had to be fun. Mary Chamberlin is of the same breed, and with her recipes we have both."
—Michel A. Escoffier
Chef Mary Chamberlin brings you the authentic tastes of great recipes that will fill your kitchen with the flavors, aromas and sensuous colors of the world. From sumptuous to spicy to spectacular, Mary's recipes have been gathered from cozy cafes, busy bistros, three-star restaurants, the kitchens of renowned chefs, and her own Carmel, California home where she has created myriad sensations over the years.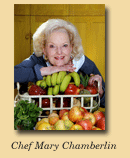 Mary Chamberlin Cookbooks brings you the recipes that delight, in the same way she serves her wonderful creations — with love. Her years of travel and gourmet experience are now being put to paper. The first to be published is "The Traveling Soup Pot, a savory journey through many lands", with a forward by the legendary Chef Michel Escoffier.
>> The Story Behind the Cover
of The Traveling Soup Pot Cookbook