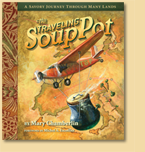 When it was decided that the cover of The Traveling Soup Pot cookbook should be evocative of an Indiana Jones adventure story and include an airplane, it was only natural that "Captain" Roy Chamberlin be the one to choose what type of plane would be illustrated. Being an airline pilot with a love of history and a fond appreciation of the infamous roaring twenties era, Roy chose the classic Ford Tri-Motor.
The Ford Tri-Motor heralded in a new era of transportation in 1929 by offering coast to coast travel via air and train. This new mode of transportation was proudly called "Coast to Coast in 48 Hours". It was a far cry from the non-stop, hours-only cross-country flights of today. Eliciting the glamour and allure of an exciting time in our history, the cover of this book conveys everything the author, Mary "The Chef" Chamberlin, and her husband, "Captain" Roy, envisioned and more.
The cover design was the brainchild of Bob Wecker of the masterful Monterey-based advertising/design agency, The Wecker Group. Bob then commissioned accomplished plein-air artist Gerard Martin to illustrate the background image. When Mary first saw the finished design it moved her to shed tears of joy. In her view, Bob and Gerard had hit a home run their first time at bat. Artistically, this cover places the observer into another place in time—one of romance and intrique—reminiscent of the Indiana Jones era. Combining each element to arrive at the final design was a labor of love for everyone involved.
An odd coincidence of note is that, when Mary was around three years of age, she and her twin brother, Dick, had been taken for a ride at the local State Fair in Illinois in that same, but now aged, Ford Tri-Motor airplane. Little did she know at the time how that airplane would come back into her life in such a significant way.
We hope that the reader of these international soup recipes will be drawn into this book as much as "The Chef" and "The Captain" were. The fun that lies within The Traveling Soup Pot is in the nostalgic journey within the many flights to exotic lands and their savory recipes. The reward at the final destination is in the taste of these delectable soups.
Now fasten your seat belts and enjoy the flight!
—"Captain" Roy Chamberlin