The Traveling Soup Pot

- A Savory Journey Through Many Lands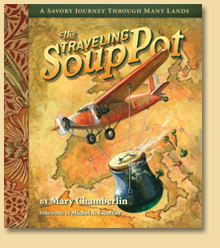 >> Watch the video interview <<
>> Read the reviews <<
Bring the world to your table!
Over 126 delectable soups from 27 countries
Easy-to-follow recipes from a culinary expert's special collection
Gourmet soups for every taste and budget
194 Pages
Soup, the original comfort food, is a thousand-year-old fare with universal appeal.
Now Mary Chamberlin brings you the authentic tastes of regional soups in easy-to-follow recipes that will fill your kitchen with the flavors, aromas and sensuous colors of distant lands . . . from the Caribbean, Italy, Greece, France, Sweden, China . . . and beyond.
From sumptuous to spicy to spectacular, Mary's recipes have been gathered from cozy cafes, busy bistros, three-star restaurants – and even the home kitchens of renowned chefs. The Traveling Soup Pot brings adventure, romance and the touch of a passionate gourmand to your everyday meals.
Mary has created what she calls her "Happy Recipes" for your delight, in the same way she serves her wonderful soups – with love.
Dinner in Blue Hawaii?
Supper on the Left Bank?
Midnight meal in Madrid?
With The Traveling Soup Pot as your passport, it's your choice!